Google is becoming more intelligent than ever. Voice search is fast gaining momentum. The search engine now answers more queries on the Search Engine Results Pages (SERPs). With these significant improvements, website owners are worried how this could change their Search Engine Optimisation strategy in 2019.
With 2019 around the corner, it is time that you start improving your SEO tactics to get a competitive edge. Here are 4 effective tips that are based on time-tested SEO best practices doing wonders right now…, and are here to perform even better in the coming year.
Therefore, if you are seeking to boost your SEO game in 2019, follow these tactics and you will see dramatic growth in search engine rankings, website traffic, and conversions.
Let's get started right away. Tips to Improve SEO in 2019!
1. User Experience Gains More Importance Than Ever
There are several 'signals' that help Google ascertain page rankings on SERP. UX signals happen to be the third most vital ranking factor.
User experience has been ruling SERP rankings this year and will continue to gain more importance in 2019. Google uses RankBrain, an advanced machine-learning tool that helps the search engine to evaluate user interaction with the search results and accordingly rank them.
So how does RankBrain measure this? It focuses on two important aspects:
• Dwell time or how long the user remains on the page
• Click Through Rate or what percentage of people click on the search results
Say, for example, XYZ has 4th ranking in SERP but it has an eye-catchy meta title & meta description that inspires more users to click. And when they visit the page, they are further enthused by the awesome content, product or service that meets their need of the hour. They spend time on the page and learning more. RankBrain would take a note of this and is likely to give a boost to that #4 ranking.
On the other hand, ABC has 1st SERP ranking but the click-through-rate is poor as it does not appeal to the users. And even if someone clicks on the result, they find the content terrible or that the page is taking too much time to load. It is not surprising that they would bounce back within 5 seconds.
If the bounce rate continues to be high, Google will throw it from the #1 position.
To optimize your website for higher SERP rankings and better conversions, it is vital to improving the CTR. To achieve this, you have to master the art of creating title tags and meta descriptions that are meticulously designed for clicks. It should be precise, crisp and must have a Call to Action.
However, merely having high CTR won't serve the purpose if high numbers of users bounce back from your website. It is also crucial to delivering outstanding content that serves their purpose. It should be resourceful and to-the-point.
While these have always been SEO best practices, the focus on user experience will further increase in 2019. Moreover, you have to be prepared for the same since competition is tougher on SERPs now.
2. Get Innovative With Featured Snippets
In the coming year, it will be further difficult for websites to be visible and rank in the top positions. With latest improvements, the competition is fierce on the search engine result pages. Some of your biggest competitors are Adwords ads, "People Also Ask", knowledge graphs, Google Images, YouTube Videos and Featured Snippets.
So to improve your optimization strategy in 2019, you have to do something creative and eye-catchy. Let's start with creating Featured Snippets.
What are featured snippets?
According to Google, "When a user asks a question in Google Search, we might show a search result in a special featured snippet block at the top of the search results page. This featured snippet block includes a summary of the answer, extracted from a webpage, plus a link to the page, the page title, and URL." A featured snippet may appear like this on the result page: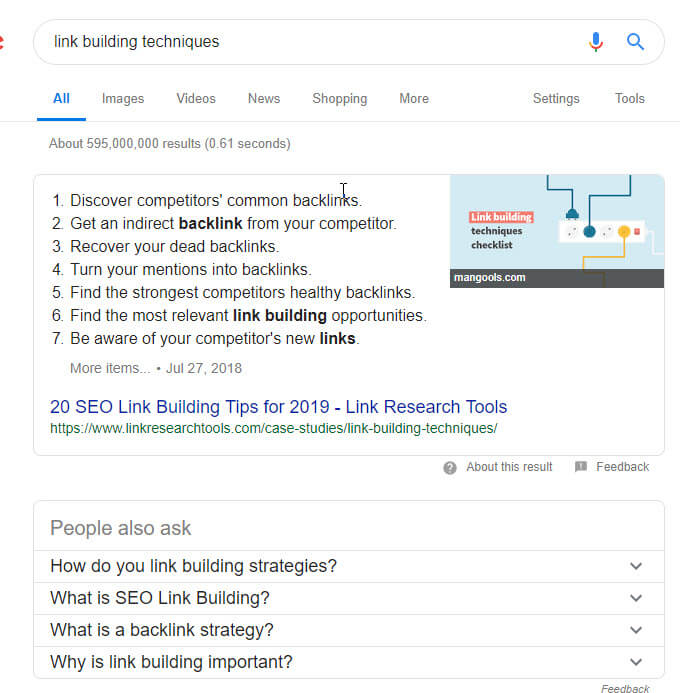 Wondering, why should you optimise for featured snippets?
With featured snippets, Google aims at answering the user's queries directly on the SERPs by featuring 'selected search results' with page title and URL. To put it simple, the giant search engine is giving your brand additional exposure in SERPs that is likely to increase CTR. In a way, a featured snippet is a free advertising for your search result that tends to attract more eyeballs.
How to optimise for Featured Snippets? To have your content ranked in featured snippets, try having question & answer sequences on your web page. You should also aim at having informational intent and not merely questions. Use advanced tools that combine featured snippet research with keyword research to provide keywords that trigger Google's Answer Boxes.
Properly organize the questions and have concise answers for them. Structured mark up is a good way to optimize your content for featured snippets. You can also create tables having structured information.
So to beat the tough search result competition that lies ahead, you have to identify what are SEO best practices that will rule in 2019. And Featured Snippets is certainly one of them.
3. Long Form Content Wins
Gone are the days when Google awarded value to a content-based entirely on how well the related keywords appeared in your website's title tag, Meta description, URL, H1 tag and image ALT text. While the search engine still consider all those stuff, but it has become smarter today.
So the focus has shifted from content to context.
The goal of the search engine is to show the BEST search result to their users. And unlike the traditional approach, the latest search results aren't just keyword-stuffed content. In fact, they now give more value to pages that cover a topic in-depth, i.e. where a user gets every piece of information they want in one place.
As Google now gives more importance to in-depth resources in a page, creating long form content has become vital than ever. In fact, studies report that longer content with valuable information outrank shorter pages in Google.
In this context, simply writing a 3000-words beast is not enough. You should also optimize it well to get quality backlinks, more social shares and better conversions, all of which contribute to higher SERP rankings. Here are some tips to create in-depth, well optimized long form content:
• Include LSI keywords that are strongly related to the topic. You can use Google Keyword Planner or any other keyword finder tool to get the most relevant LSI keywords.
• Create authoritative content – exceptional & exhaustive that cannot be found anywhere else.
• Don't just make your content lengthy; make it interesting to read and purposeful. It should serve the readers in the best possible manner.
For instance, you choose a topic 'Sightseeing in Dublin.' The content should be all-inclusive – top tourist attractions in Dublin, open & close timings, things to do, entry fees (if any), best time to visit, hotels in Dublin with contact details, what & where to eat, shopping, etc.
• Typically, people are not much keen to read a 3000 – 4000 words article. Make it easy to read and engaging. Add catchy title, description, and sub heads. Use a mix of paragraphs and bullet points. Have a summary in the beginning, highlighting key points of the article. The language should be simple and the content should have a flow.
In addition to the above, follow other on-page and off-page SEO tactics that you generally practice for effective content marketing. Trust us; long form content will rule in 2019 and you have to get ready for it from now.
4. Optimise Your Website for Mobile-First Index
Do you know that the giant search engine now showcases the mobile version of a website as its "real" version even if a user searches from a desktop?
Yes; as a website owner, you might have received the "mobile-first indexing enabled" message from Google a few months ago. While you have not given it much importance that time, Google's new indexing system will definitely affect your SEO strategy in 2019.
In a scenario when almost 60% of searches come from mobile devices, with the number growing rapidly, it makes most sense to optimize your site for Mobile-First Index. Let's dive into three crucial steps:
• Create content that is consistent across mobile devices and desktop
• Embrace responsive website design that delivers the same look & feel across all screen sizes, resolutions and device specifications
• Make your site mobile-friendly. This includes features like fast page loading time, ease of scrolling, zooming & pinching, great resolution, etc.
• Accelerated Mobile Pages (AMP) would gain momentum in Google SERPs in the coming year. Focus on creating Progressive Web Apps and AMPs that generally comprise of pure text to ensure that the pages load quickly.
Want to know how mobile friendly is your website? Review the Mobile Usability report in your Google Search Console. It tells you which pages or what aspects of your website are not optimized for mobile devices and how to fix them. For extraordinary results in 2019, take an approach to the best guide to mobile SEO.
2019: Your SEO Checklist
• Focus on improving User Experience, i.e. delivering a value to the users for a specific search query
• Add structured mark up to your website to allow Google use data for rich Featured Snippets that can help boost CTR in search engine result pages
• In-depth, purposeful and engaging content will rule the show
• Optimize your website for mobile devices with enhanced UX, look & feel and browsing capabilities
• Concentrate on making your website fast loading and easy to navigate
The above SEO best practices would deliver outstanding results in the coming year in terms of SERP rankings, higher CTR, less bounce rate and better conversions.
And finally get your website free SEO Analysis to improve your Website Traffic NOW!