Why Creating a LinkedIn Business page Page?
A LinkedIn Page acts as the voice of your organization on LinkedIn. It helps members learn more about your business or school, brand, products and services, and job opportunities. To interact with members on LinkedIn as an organization, you must have a LinkedIn Page.
LinkedIn is the best platform to promote a business to business companies. This network is becoming the perfect place to drive business results, raise brand awareness, promote career opportunities, and educate potential customers on your products and services.
Before creating a Page for your school (including high schools) or company, you'll need to create a LinkedIn profile with your real first and last name. Page creation is currently available on desktop only.
Adding LinkedIn to your marketing strategy can help you expand your network, find clients/customers, and create a professional image for you and your business.
7 Key Ways LinkedIn Can Help Your Business Reach Your Audience
• Tell Your Story with a Company Page. Optimize and maintain your company page. …
• Showcase Your Products and Services. …
• Leverage LinkedIn Groups. …
• Boost Your Company's SEO on LinkedIn. …
• Tap the Power of Pulse. …
• Find Out Who's Reading. …
• Promote Your Page To Gain More Followers.
How often should a business post on LinkedIn?
In order to keep your name in front of your connections, we usually recommend posting a minimum of three times per week, and up to 3 times per day. You could potentially post even more frequently, but a maximum of three times per day is probably limited enough to prevent the appearance of being a spammer.
How do I use LinkedIn to promote my business?
1. Create a Company Profile.
2. Use LinkedIn Polls.
3. Answer a Question.
4. Participate with Groups.
5. Create a Group.
6. Leave a Status Update.
7. Ask for Recommendations.
8. Advertise.
Is a LinkedIn Company Page free?
Anyone with a company name and company email address can create a LinkedIn Company Page within minutes. The best part is that it's free and easy. LinkedIn has 200 million members.
Requirement to create LinkedIn Business Page
Unlike a Facebook page, it is not very easy to create your company page on LinkedIn. Nor it is way too difficult or impossible. There are certain requirements that need to be met before you can go ahead and create a company page on LinkedIn.
1. You must have a personal LinkedIn profile set up with your true first and last name.
2. Your profile is at least a week old ( 7 days to be precise ).
3. Your profile strength must be listed as Intermediate or All-Star.
4. You must have decent number of connections on your profile. (LinkedIn does not mention how much it is)
5. You're a current company employee and your position is listed in the Experience section on your profile.
Once the requirements are met you will be able to create a company page.
How to Create  LinkedIn Business Page?
To create a LinkedIn Page:
1. Click the Work icon in the top right corner of your LinkedIn homepage.
2. Click Create a Company Page. You'll also select this option to create a Page for a school.
3. Select the page type you'd like to create from the following options:
• Small business
• Medium to large business
• Showcase page
• Educational institution (high school or university/college)
4. Enter your Page identity, Company or Institution details, and Profile details information.
5. Check the verification box to confirm you have the right to act on behalf of that company or school in the creation of the page.
6. Click Create page.
• If you don't have a confirmed email address associated with your LinkedIn account, you'll be prompted to add and verify your email address.
• A red error message may appear if your LinkedIn account has recently been created or you don't have enough connections. Learn more about how to build your professional network.
All Page URLs will be structured as https://linkedin.com/company/[YOUR COMPANY NAME].
Example: https://www.linkedin.com/company…
To know more visit: Creating a LinkedIn Page
Click the Work icon in the top right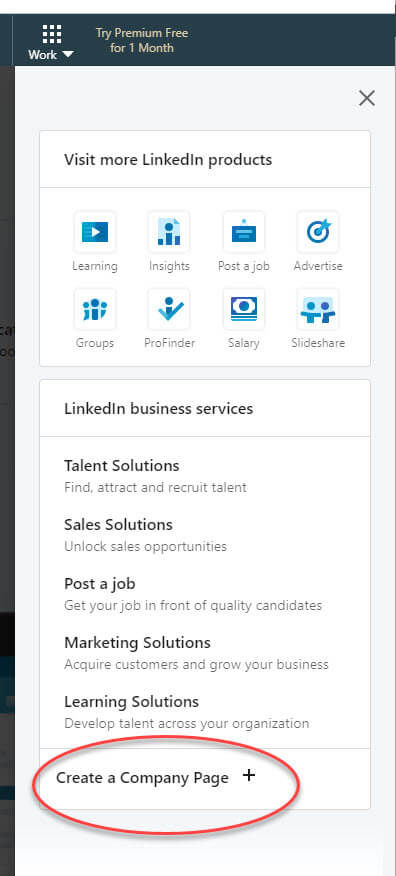 Choose a page type.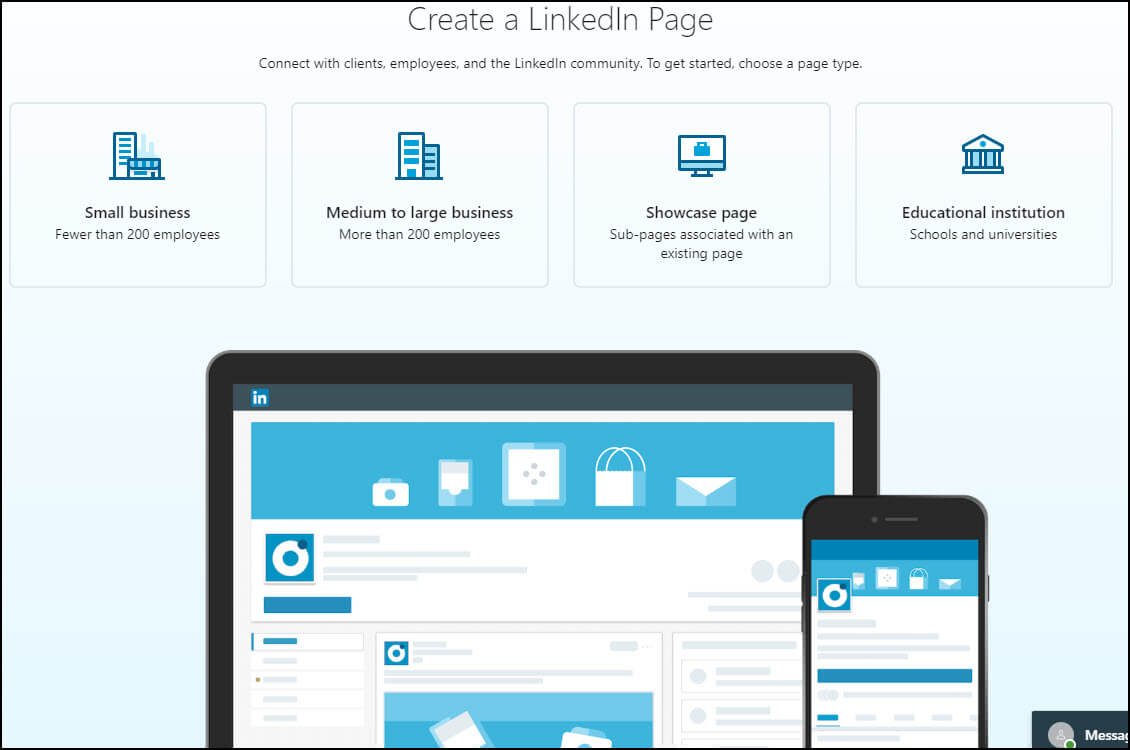 Details about your small business