Online trade is now one of the most profitable businesses in the world. Customers have got used to everything going online: work, entertainment, and shopping. That's why the number of online stores is constantly growing. So is competition. How do you persuade users to visit your website?
You may invest money in advertising and focus on PPC (pay per click). But it doesn't ensure a steady flow of customers. Once you stop paying, the website fades away from the top search results, and the traffic drops. How can you keep the click-through rate high in the long run?
Practice search engine optimization (SEO). SEO unites the efforts to attract organic traffic to the website, meaning you don't pay money for these visitors. They come naturally by finding the website on search engines like Google, Yahoo, and Bing.
However, doing SEO manually is a daunting task. There are numerous free and paid tools to assist you in this aspect of store optimization. Are free tools enough to meet your needs, or do you need advanced and paid solutions? Read this article to find answers to this question.
Free and Paid Tools to Improve eCommerce SEO
SEO aims at promoting a website in search results. The higher it appears, the more views and clicks it gets. More clicks mean to possibility to convert more prospects when they arrive on your page.
However, it's not enough to stuff your content with keywords to boost the website position. This strategy may have worked some years ago, but now more sophisticated tactics come into play. For example, you need long-tail keywords rather than one or two-word phrases. Practices to promote the website in the search include:
discovering website issues;

conducting keyword research;

acquiring backlinks;

improving product pages, descriptions, and listings.
Website speed also plays a critical role in the position in SERP (search engine results page). So you need to optimize TTFB (time to first byte) and other metrics to ensure the content appears fast enough to satisfy users and enhance your rankings.
Where do you put data and evaluate it? eCommerce platforms contain out-of-the-box SEO functionality and features. But they usually aren't enough to cover all cases to boost the marketing plan. Spreadsheets and manual audits may lead to much time wasted and many mistakes. That's when the time comes to adopt third-party SEO solutions.
What should you choose for SEO? Below is the comparison of three free and paid SEO software. It illustrates their capabilities and whether it's reasonable to pay for some features or not.
Google is the most popular search engine, with 92.07% of the market share. That's why your SEO efforts will undoubtedly aim at promoting your website on Google. The company provides a free tool to monitor and report your website's status in Google SERPs. Free Tools: Google Search Console, SEO Review Tools, SEOquake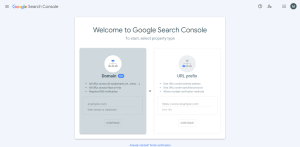 It requires you to verify the possession of the resource in one of the several ways:
by uploading an HTML document to the website;

through domain registrar;

by adding a <meta> tag to the code;

through Google Analytics;

via Google Tag Manager container snippet;

to name a few.
This step ensures that only authorized users get access to information and settings. After verifying the website with one of the proposed options, you can manage pages to index or hide from crawlers.
Search Console determines whether the website is crawlable, calculates traffic, checks backlinks, and monitors security. It's better to connect the tool with Google Analytics to combine data and get additional reports.
You can submit and analyze a site map to improve crawlability. It's handy for new resources or the ones with multiple pages and rich media content.
Search Console is a comprehensive tool with extensive data and reports. However, it doesn't provide information about other search engines.
SEO Review Tools
SEO review tools unite several instruments for your eCommerce business. There are 60 free SEO tools with a 360-degree view of the website rank, domain authority, backlinks, and more. The service can assist you in content creation and SERP ranking analysis. For more convenience, there is a separation into four categories:
SEO Authority tools

to estimate traffic, discover broken links, and research competitors;

Technical SEO tools

with the internal link analyzer, the FAQ Schema Generator, Page Experience Checker, etc.;

SEO Content tools

help to find trending topics,

duplicate content

, keyword suggestions, and synonyms related to your keyword;

Webmaster tools

to search for public email addresses, measure Core Web Vitals, and test mobile-friendliness.
These and other tools streamline your link-building strategies, content optimization, and technical audit. SEO review tools drawbacks include the inability to verify more than one page at a time. And as it's free, the reports aren't as detailed as the ones from paid tools.
SEOquake
This tool is a free browser plugin. It covers vital SEO indicators for a single page and audits the resource. For example, you can compare Google index, Bing index, and SEMrush rank. The plugin also shows backlinks, keyword density, and traffic sources.
The SEO Chrome addon allows you to track competitors without knowing about it. How many internal and external links do they have? How many of them are no-follow?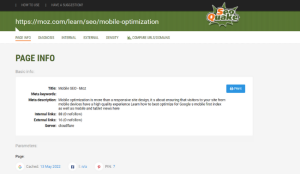 Some features require linking your SEMrush account to the SEOquake extension to get more information about web pages. We'll talk about SEMrush further as it's a paid tool. For instance, you'll have domain authority, visits, and engagement data.
Paid Tools: Semrush, Ahrefs, Moz Pro
Semrush
SEMrush is a platform with 50 built-in SEO-related tools. It has a limited free version, available for as long as you need it. The disadvantage is that not all functions are accessible. You can go in for a 7-day trial to test paid functionalities at no cost.
The software can help with SEO, content marketing, competitive research, PPC, and social media marketing. SEO possibilities include:
keyword research

to discover opportunities for your eCommerce website with keyword search volume and competition;

on-page SEO

to find and fix website issues;

local SEO,

such as the Listing Management tool, which sends and updates your business data on related directories;

rank tracking

to check the website position depending on chosen keywords, regions, or device types;

backlink analysis

to determine who mentions your website with and without attribution;

competitor analysis

shows where links to competitors come from.
Cost: The Pro plans range from $119.95/month to $449.95 a month.
Ahrefs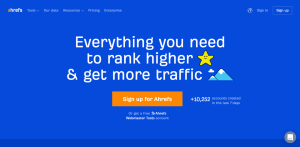 Moz
Ahrefs always appears on any list of the top SEO tools for eCommerce. It's a freemium SEO tool for marketing professionals with the second-fastest web crawler after Google. It means the information it gives is more dependable and accurate than any other tool on the market provides.
It comes with a complete set of tools for tracking and improving your search engine presence. The Ahrefs dashboard gives you a thorough SEO overview of your website, including:
health score;

domain rating;

referring domains and backlinks; 

organic traffic;

keywords.
The software presents the following tools:
Site Explorer

with the backlink profile and search traffic of any website or URL;

Keyword Explorer

to find the right keywords with the needed search intent for Google, YouTube, and Amazon;

Site Audit

to monitor the SEO issues on the website;

Rank Tracker

, displaying your website's position in search results for specific keywords on mobile and desktop;

Content Explorer

to find trending content and get ideas for your website to rank better.
Cost: You'll have to pay $99 to $999 monthly to access all features.
Moz combines fundamental features of Google Analytics and Search Console with research capabilities of premium tools. A case in point is MozBar, a renowned free SEO tool. It leverages indicators from Moz, such as domain authority (DA), page authority, and spam score, to evaluate any website.
Moz has the Keyword Explorer tool. It helps to review keywords to generate high-quality content and attract the target audience to your store. Moz Pro also shows keyword rankings and how you compare to your competitors.
Site Crawl is used to discover flaws. If you eliminate them, search engines will fully crawl your site, boosting your chances of appearing higher on search. Moz Pro shares prioritized recommendations to improve page optimization.
Cost: The price starts from $99 a month to $599 for the same period.
Conclusion
How do you understand SEO marketing brings results? How do you come up with new keywords? SEO tools for eCommerce streamline these and other tasks. They report on the best and worst-performing website aspects, provide keywords, and show how you measure up to competitors.
Some are free. Others require paying monthly or yearly, depending on the subscription. Is paid software worthwhile if you can get some functions at no cost? There are numerous free SEO tools and free versions of premium software available. They are simple and a great start.
However, they contain limitations which may hinder opportunities for sustainable business growth. Paid software provides more precise information and value than free ones. So if you focus on the long term, purchase paid solutions.
About the Author
Kate Parish
Kate Parish, chief marketing officer at Onilab, with 8+ years in Digital Marketing and eCommerce web development promotion. Kate constantly upgrades her knowledge and skillset to stay fit in the progressing online world. She always does exhaustive research in such spheres as SEO, branding, SMM, PPC, and Magento PWA development, before sharing her expertise with a wide audience.